21:30MEST: It seems as if all these thunderstorms will miss Berlin tonight, which will only paven the way for only by far more severe thunderstorms than forecast here tomorrow. Therefore the M.I.L.K. live ticker will be continued tomorrow morning at 5:00am MEST. Untill then, please visit our M.I.L.K. exclusive website M.I.L.K. home meteorologist which allows you to be a meteorologist and observe the weather at home with very exclusive data. Username for restricted stuff is: milk password is: leichter-regen
Live loop of Germany: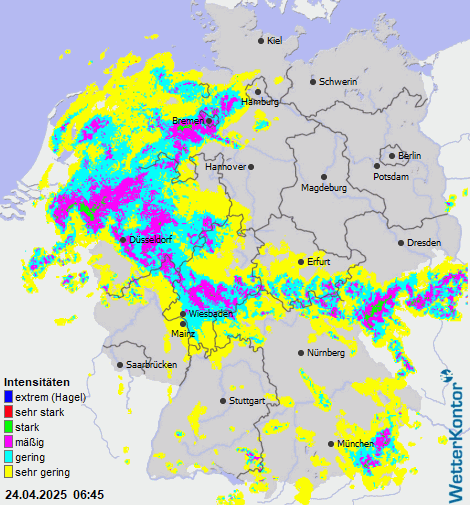 21:30MEST: The current Brandenburg overview: Oraneinburg is under a warning for 20lm² in short periods of time, gusts up to 80kmh and hail. Brandenburg, Wiesenburg, Jüterborg and Finsterwalde are also affected by the warning. Here lightning strikes, trees are uprooted, roofs are damaged. But in Neuruppin and Wittstock the warning is by far worse: Hail significatnly over 4cm in diameter, flooding, 40lm² at least in short periods of time, gusts by far over 120kmh, so hurricane force.

21:15MEST: Berlin is expecting severe thunderstorms from W, bringing excessive precipitation, large hail and intense storm gusts. But tomorrow the situation looks even worse: over 50lm², hail at least 5cm in diameter and gusts by far over 120kmh...

21:15MEST: Currently severe thunderstorms are to be seen everywhere in the N half of Germany. Especially severe thunderstorms are lurching W of Berlin, in W Brandeburg. The most significant one is a supercell that we are keeping a close eye on. Here th live radar image from Berlin:



21:10 MEST: The current situation is extremely dangerous around the capital of Germany and therefore around M.I.L.K.. We will acompany this incredible weather situation of heat, thunderstorms and a lot more from now on live here from the M.I.L.K. main station in Berlin, hopefully right in the middle of a supercell...